Training Solved!
Not JUST online training
Online training is fast becoming a popular way to deliver many kinds of training, including health and safety. However, as you know, training is just one piece of your compliance management. Apex Total Training delivers quality training content to your workforce, but we go a step futher and integrate it into a proven management system. Take a look at what sets Apex Total Training apart from the rest.

Engaging, Customizable Training Content
Lacking training content or are employees getting sick of the same old cheesy videos every year? No need to start from scratch! We'll provide templates for all your training programs.
Starting with a PowerPoint presentation, we'll add narration, animations, quiz questions, and videos. We can also insert site specific images to further customize your training to your workforce.

Carefree Training Management
The Training Wizard easily allows you to develop your training program based on who needs to be trained. Assign training to multiple students with the click of a button

Email Reminders and progress reports for training administrators to keep your finger on the pulse

Centralized Record Keeping allows you to deliver employee training records at a moment's notice


Easily manage training curriculum that meets OSHA's standards.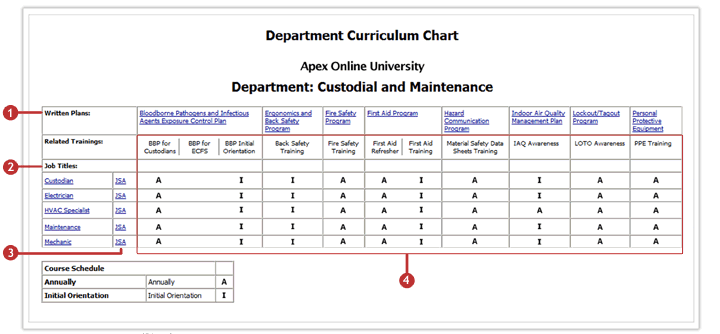 Per OSHA's standards, the proper sequence for developing safety curriculum is to:
Develop a written plan for how to engineer out and/or work around the workplace hazard.

Identify workers exposed to these hazards while performing their job duties.

Create a Job Safety Analysis for each job description.

Create training that demonstrates the hazard in the workplace and how to work safely around the hazard.
The curriculum chart displays the course schedule for the job titles within each department.

With The Total Program, relationships between your written plans, training and job titles are clearly defined in a centralized location.
Training scenarios include:
New Employee Orientations

Health and Safety Certification

Equipment Usage

Policies and Procedures
Unlike other web-based training software, Total Training is a complete Learning Management System.
Training content that is customizable and engaging for students.
Click here to preview a sample Hazard Communication Training


Assign training based on specific job descriptions

Automated To-do lists, email reminders, and "Certificates of Completion" for students

Integrate existing course content and exams

Keep track of student progress with training reports

Export reports into Excel spreadsheets for further collaboration
---